Why Stainless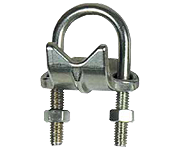 Stainless Steel
(Gibson)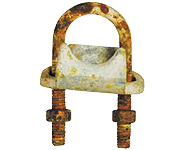 Hot Dip Galvanized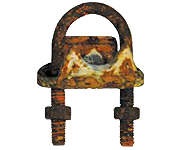 Zinc Plated
Note: Results after 4-week salt spray test.
The Basics
In areas where corrosion is a concern, stainless steel is often the choice. Stainless steel has a much greater resistance to corrosion, including rust, than standard carbon steels and greater resistance than coated steels such as hot dip galvanized or zinc plated.
Stainless steel is a highly alloyed, low-carbon steel with a high (at least 11%) chromium content, which gives it corrosion-resistant characteristics. When exposed to the atmosphere, the chromium reacts to form a passive oxide layer on the metal's surface, slowing further oxidation and providing a self-healing quality that helps extend service life. Three alloying elements in stainless steel contribute to the formation and characteristics of this oxide layer. Chromium is essential for the formation of this "self-healing" film. Nickel promotes film formation, particularly in environments with increased oxidation potential, and is especially helpful in preventing corrosion from mineral acids. Finally, manganese, in moderate quantities and in association with nickel, will perform many functions attributable to nickel and helps prevent pitting.
Properties
Grade
Yield Strength
Tensile Strength
Density
Modulus of Elasticity
Coefficient of Thermal Expansion
Electrical Resistivity
MPa [ksi]
MPa [ksi]
g/cm3
lbm/in.3
GPa
106psi
10-6/℃
10-6/℉
Ω - m
304 SS
205 [30](min)
515 [75](min)
8.000
0.289
193
28
17.2
8.6
7.2 x 10 -7
316 SS
205 [30](min)
515 [75](min)
8.000
0.289
193
28
15.9
8.8
7.4 x 10-7
Why Choose Stainless Steel?
Stainless steel provides an unbeatable combination of strength, corrosion resistance, aesthetic appeal, and economic value.
There are five classes of stainless steels, differentiated by their crystal structure and microstructure. Gibson Stainless uses alloys from the austenitic stainless class which are characterized by their combination of ductility, strength and toughness; they cannot be hardened by heat treatment but are strengthened through cold work. Their strength and toughness make them ideal for use in both high and low temperature environments, respectively.
Besides being corrosion and heat resistant, stainless steel also possesses certain characteristics that make it safe for use in the medical and food and beverage industries. Its high corrosion resistance allows it to endure the harsh chemicals and cleaning products used to sterilize materials for these sensitive applications.
Stainless steel is easy to maintain and offers unparalleled value, as it can last 10-20 times longer than carbon steels or iron in the same environment. And, when it is time to be taken out of service, stainless steel can be re-melted and reused.
Common Grades
There are over 60 different grades of stainless steel, each with unique properties. The 300 series of stainless, which contains the two grades most often used in the electrical and mechanical industries - 304 SS and 316 SS - has the addition of nickel. Grades in the 300 series are able to maintain their austenitic microstructure at low temperatures. This structural characteristic allows the steel to retain its versatile strength, corrosion resistance, and aesthetic features in virtually any working environment.
(Gibson Stainless products are stocked in the higher grade of Type 316 SS and in some products Type 304 SS as well.)
Type 304
Type 304 SS is a widely used type of stainless steel and is considered the standard "18/8" stainless. Offering mechanical strength, corrosion, and oxidation resistance at a more economical price point, 304 stainless is used in a wide range of components to provide basic resistance to corrosion.
Type 316
The second most common grade, 316 SS is slightly more corrosion resistant than 304 SS. Type 316 is the standard molybdenum-bearing grade of stainless steel, containing 2-3% molybdenum. The addition of molybdenum enhances the metal's overall resistance to corrosion, cracking, creeping, chemicals, solvents, sulfuric acids, extreme temperatures, and pitting from chloride solutions. It is an ideal choice for electrical products subjected to industrial processing chemicals, ocean spray, or high chloride environments.
Cost
Due to price fluctuations of the key alloying elements used in the 304 and 316 grades of stainless steel, the initial overhead cost of stainless steel components can appear high:
| | |
| --- | --- |
| Chromium | $0.60 - $2.00/lb |
| Nickel | $7.50 - $12.00/lb |
| Molybdenum | $25.00 - $38.00/lb |
However, total cost of a product should also take into consideration the life of a product. While stainless steel may cost more initially, its durability, extensive service life, and recyclability, yield long-term savings through cost avoidance associated with reinstallation of inferior products, making stainless steel a highly cost-effective material. Reinstallation costs become an even greater concern in hazardous or dangerous locations where accessibility is a problem.